Formula Style Sim Racing Wheel with Integrated Dash
The Moza FSR Formula Style PC Racing Simulator wheel is a very exciting-looking wheel.  With its Integrated dash and high-quality construction, this looks to be one of the best Formula 1 Sim Racing Wheels for a Direct Drive Wheelbase.  We spent a long time testing this one out in the Boosted Media studio to see how it stacks up against similar wheels from Fanatec and Thrustmaster.
While it looks good, there's an important factor that could be a deal breaker for now.  Fortunately being a software-based issue, we hope that won't last long.  But make sure you read on to see if this is the right Formula Style Racing Wheel for your Sim Rig!
---
If our MOZA Racing reviews have helped you decide what the best sim racing gear is for you, and you would like to support our work at Boosted Media at no additional cost, follow the affiliate link below and we will earn a small commission from your purchase. 
Please make sure you accept cookies when prompted or we won't receive the commission.
MOZA RACING FSR BUILD QUALITY
The Moza Racing FSR is a very well-built Formula-style wheel that is a clear step up in construction quality to that of the Moza GS Wheel.  For the additional cost, you do not just get the addition of an integrated 4.3″ Dash.  You also get a very high-end look and feel from its CNC Machined "Aviation-grade" aluminium housing with an anodised finish.  This is a step up from the GS Steering wheel which had a plastic housing with a metal internal structure for added rigidity.  Both wheels are very solid, but the FSR is on another level.
As with the GS wheel, the FSR has anodised aluminium hats on all 5 of the rotary encoders. This is unlike the Fanatec Formula Wheel and Thrustmaster SF1000 Wheel's plastic rotary encoders which have been reported as being easily damaged by some users. They also add to the high-end feel of the MOZA FSR.
MOZA Racing FSR vs GS Steering Wheel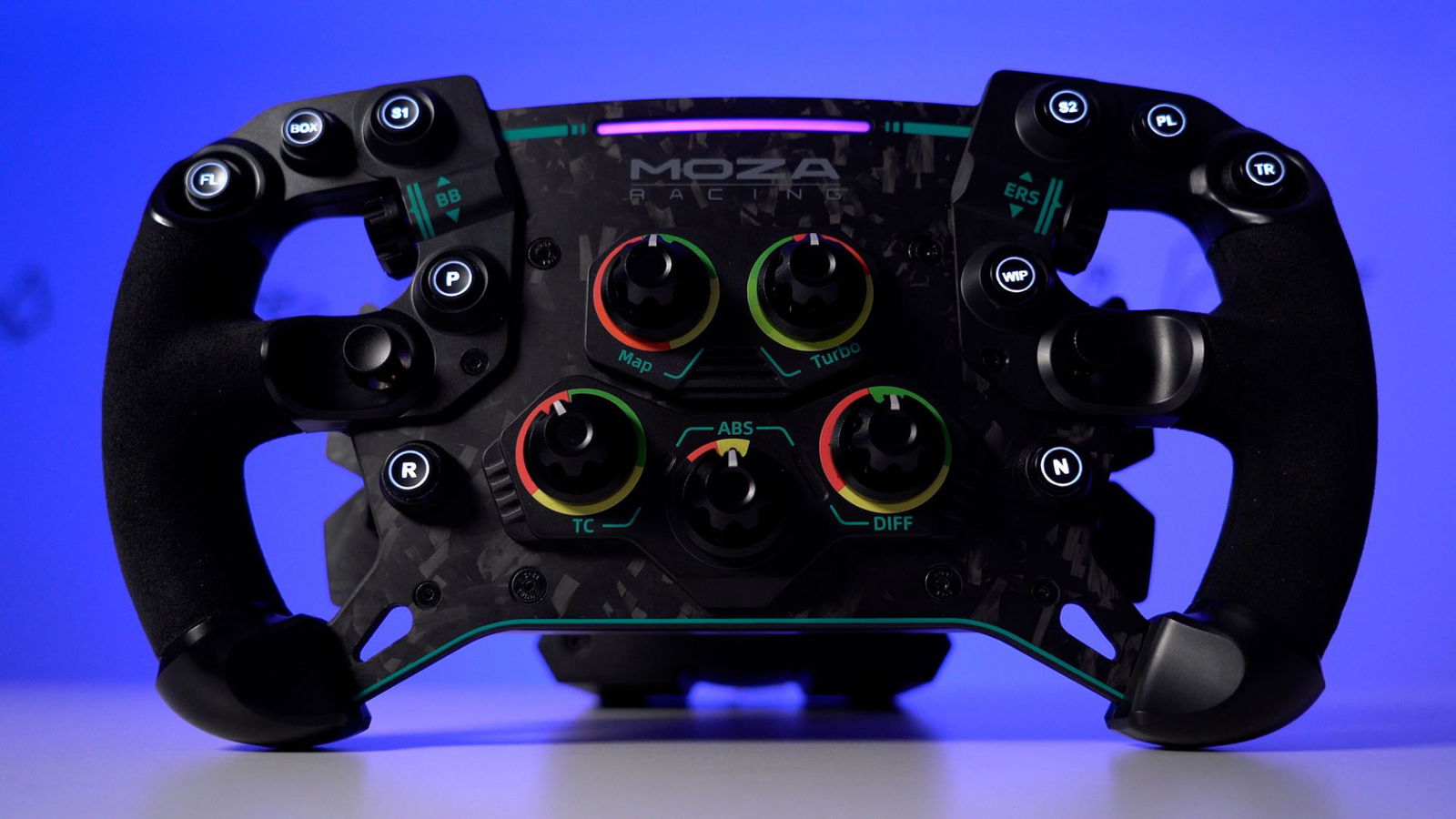 While the MOZA Racing FSR is a big step up in price from the GS Steering wheel, there is more to the increase in value than just the screen.
---
ERGONOMICS AND DESIGN
With a diameter of 280mm, this is definitely best suited to Formula cars.  While no one is stopping you from using it for GT3, most people would agree that a 280mm wheel can feel quite twitchy and isn't well suited to anything other than F1 and similar high downforce styles.
The grips are a similar width to that of the Fanatec formula wheels.  This is a versatile size grip, that should suit most hand sizes.  The holes that your thumbs rest in might be a little small for anyone with particularly thick thumbs.  But this wasn't anywhere near problematic for me.
Button layout
A great part of an F1 steering wheel with an integrated dash positioned centrally like this is that the screen does not take up any valuable button space on the wheel.  We have plenty of buttons positioned nicely within reach of your thumbs while maintaining your grip on the wheel.  I believe thumb encoders are an absolute necessity for Formula 1 driving. The addition of push buttons on the thumb encoders is a great inclusion. They provide another level of easy-to-use, intuitive, on-the-fly adjustments.
While you obviously need to move a hand off the wheel to reach the rotary encoders, they are a good size and very well-spaced.  This makes them easy to find without taking your eyes off the road.  The solid detent and purposeful clicking feel will make sure you don't bump the wrong dial at any time.
The only potential for adding more value to the button layout here would be an additional "Function" button similar to what we see on the Fanatec wheels.  This would provide simple access to wheel setup menus without the need to overlap with the functions mapped to your game.  I'd love to see a button on the back of the housing like the infamous "break magic" button on the Mercedes F1 wheel.
On-Wheel Dash Functionality
At the time of this review, there are 11 pages available on the MOZA FSR integrated dash.  All of which are well presented with a huge amount of detail.  The 4.3 inch, 800 X 480 pixel in-built screen is big enough with a high enough resolution for all text and graphics to be easily seen at a glance.  The screen is very sharp but does not have an amazing contrast ratio. Due to backlight bleed, the blacks are definitely not as black as you might be used to on your mobile phone's OLED display.
The dash screens can not be customized at the time of this review. There is no reason why this can't be changed with a firmware update and is something we hope to see changed in the future. Because of this, not every displayed parameter on any given page will function with every sim title.  Therefore you might struggle to have all the information you want on one page, without any wasted space of parameters that are not functioning.
Of course, the ability to customise the dash would come with added complexity. Sim-Hub for example can be a very time-consuming and sometimes complex process. But as there is an ever-growing community of users sharing their creations, using sim-hub for your dash is becoming more powerful all the time.
I do think that some basic customization within the pithouse software would go a long way.
The Bad Part – Changing Dash Pages
There is currently a list of "Key Combinations" which provide additional functionality to the wheel. This includes the important function of changing pages on the dash. Unfortunately, the combination to change the dash page is – Right Clutch Paddle + Right Joystick Left or Right.  Therefore, if you attempt to change dash pages while driving, you're going to have to activate your clutch!
At the time of this review, you are unable to modify these key combinations, meaning you'll either have to go without using your right clutch paddle or stick to one dash page.  Neither of these is a very good option at all.
MOZA have told us they plan to add the ability to change the assignment for these function. We do not have specifics or a timeframe on that fix as of yet.
---
Is the MOZA FSR the Best Formula Style Wheel for You?
If you are already in the MOZA Ecosystem, the FSR Steering wheel is a great wheel for anyone spending a lot of time in formula style cars.  However, the small diameter makes the GS wheel a much better option for GT3 and other lower downforce categories.  But for those who want to invest in a formula style wheel, it is easy to see where your extra money in choosing the FSR is going.  The dash a very valuable feature. (especially once the wheel functions become assignable) And there is a nice step up in construction quality over the GS.  This gives a good high-end feel to the FSR above that of the GS.  There is of course the MOZA CS steering wheel which is a very versatile wheel for a very reasonable price.  The combination of the CS and FSR in your collection will tick a lot of boxes.
If you are still deciding if you want to invest in the MOZA ecosystem, rather than Fanatec or Thrustmaster for example, the FSR does bring a big pro to the MOZA list.
MOZA Racing FSR vs Fanatec Formula V2.5
Fanatec users have been asking for a wheel with an integrated dash for a long time.  The Fanatec Formula V2.5 wheels are feature rich and offer great functionality. But there is nothing quite like the experience you get from an integrated dash on your wheel.  This is something particularly useful in formula-style cars. There is a lot of data at your disposal and you won't be spinning the screen upside down.
Despite the additional screen space on the MOZA, the fanatec wheels are far better for changing settings on the fly.  You have a dedicated function button that switches the small OLED display to a menu mode. This gives you very easy control of your wheelbase settings directly from your wheel.  This is something that has made the Fanatec Wheels stand out for a long time.  If MOZA can add similar functionality to the FSR wheel, it would be a very enticing feature.
MOZA FSR vs Thrustmaster SF1000
The Thrustmaster SF1000 is significantly cheaper than the Moza Racing FSR. It is also compatible with much cheaper wheelbases than the MOZA range. So in many ways, we are not really in the same league here. With that in mind, the MOZA ecosystem does deliver when it comes to build quality and driving experience. The question "Is it worth it?" is impossible for me to answer. That will be different for everyone. But it is very clear where that extra money is going.
But… The implementation of the built-in screen on the Thrustmaster SF1000 is at this stage much better than the MOZA FSR. This is purely because of the ease of switching between dash pages on a dedicated rotary dial on the Thrustmaster SF1000.
There is so much to take into consideration for a fair comparison between these products, so check out our full detailed reviews of each of the wheels and wheelbases from Fanatec, Thrustmaster, MOZA, and more.
If our MOZA Racing reviews have helped you decide what the best sim racing gear is for you, and you would like to support our work at Boosted Media at no additional cost, follow the affiliate link below and we will earn a small commission from your purchase. 
Please make sure you accept cookies when prompted or we won't receive the commission.
More Sim Racing Reviews by Boosted Media