Today we take a look at all the SIm Racing wheels I currently have in my possession and their various strengths and weaknesses. This is by no means an all-encompassing review of every wheel on the market, but it should give anyone looking at what wheels to buy with their shiny new sim gear a good starting point to make some decisions. We also touch on the Fanatec and Simucube ecosystems and their respective advantages.
Some of these I've paid full retail for, others have been provided by their manufacturers. The details of these arrangements are covered in the video for full disclosure.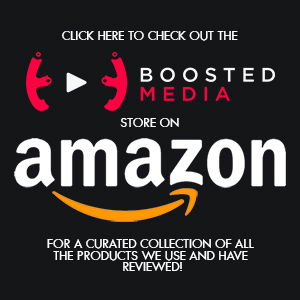 Join our Discord Community:
https://discord.gg/7YzjkFQ
Follow us on Twitch:
https://boostedmedia.net/go/watch-online-sim-racing-streams/
If you'd like to pick up any of the gear you see in my videos, I'd love it if you could use the following links. A small percentage of the profits comes back to me to put food on the table for my family and keep this channel growing.
PRODUCT LINKS:
Fanatec McLaren GT3:
US: https://boostedmedia.net/go/purchase-here-fanatec-csl-elite-mclaren-gt3-america/
EUR: https://boostedmedia.net/go/purchase-here-fanatec-csl-elite-mclaren-gt3-europe/
AUS: https://boostedmedia.net/go/purchase-here-fanatec-csl-elite-mclaren-gt3-australia/
JAPAN: https://boostedmedia.net/go/purchase-here-fanatec-csl-elite-mclaren-gt3-japan/
Fanatec Formula V2 with Podium Upgrade:
US: https://boostedmedia.net/go/purchase-here-fanatec-clubsport-formula-v2-wheel-america/
EUR: https://boostedmedia.net/go/purchase-here-fanatec-clubsport-formula-v2-wheel-europe/
AUS: https://boostedmedia.net/go/purchase-here-fanatec-clubsport-formula-v2-wheel/
JAPAN: https://boostedmedia.net/go/purchase-here-fanatec-clubsport-formula-v2-wheel-japan/
Fanatec BMW M3 GT2:
US: https://boostedmedia.net/go/purchase-here-fanatec-clubsport-bmw-m3-gt2-racing-wheel-america/
EUR: https://boostedmedia.net/go/purchase-here-fanatec-clubsport-bmw-m3-gt2-racing-wheel-europe/
AUS: https://boostedmedia.net/go/fanatec-bmw-gt3-rs-racing-wheel/
JAPAN: https://boostedmedia.net/go/purchase-here-fanatec-clubsport-bmw-m3-gt2-racing-wheel-japan/
Ascher Racing F28-SC:
https://www.ascher-racing.com/shop/f28-sc/
FANATEC Podium R300:
US: https://boostedmedia.net/go/purchase-here-fanatec-podium-r300-usa/
EUR: https://boostedmedia.net/go/purchase-here-fanatec-podium-r300-europe/
AUS: https://boostedmedia.net/go/purchase-here-fanatec-podium-r300-australia/
JAPAN: https://boostedmedia.net/go/purchase-here-fanatec-podium-r300-japan/
FANATEC:
https://boostedmedia.net/go/fanatec-webstore/
MY GAMING PC SPECS:
https://boostedmedia.net/technology/boosted-media-ultimate-gaming-pc-system-specs/
Check out the gear we use and have reviewed in our Amazon Store:
https://boostedmedia.net/go/amazon-us/
More Sim Racing Reviews by Boosted Media